6
min read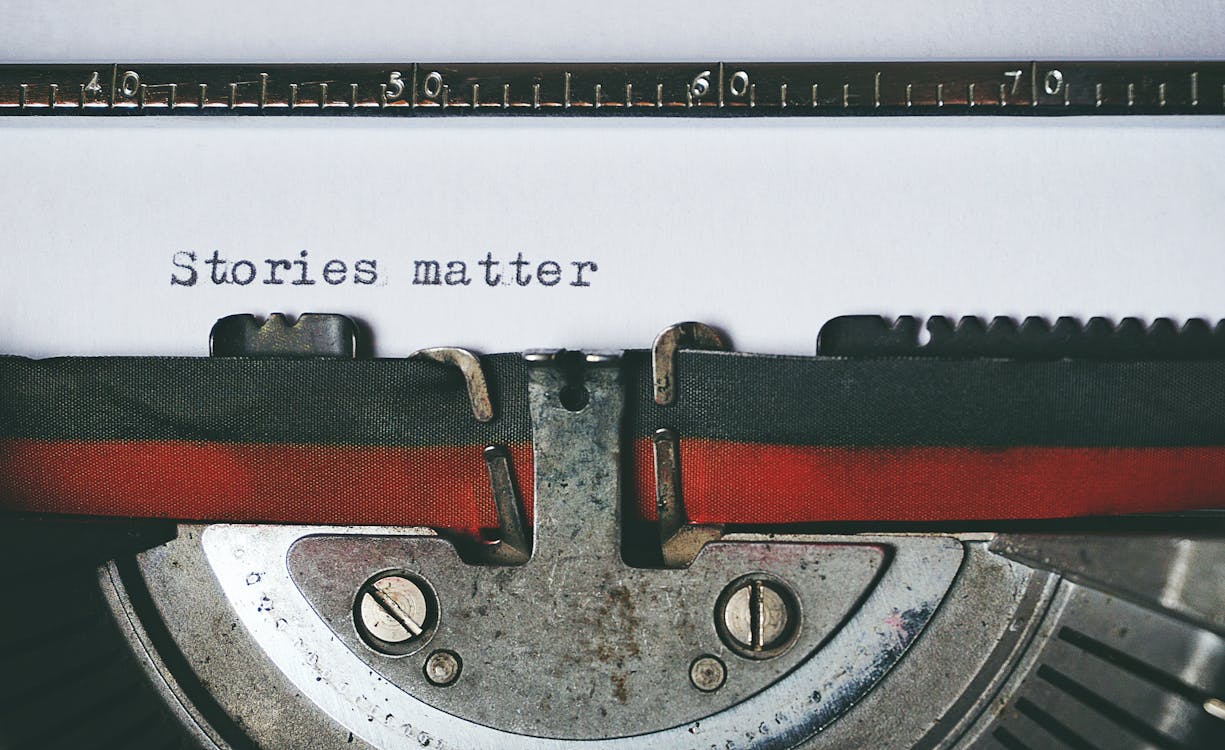 I have a story, you have a story, everyone has a story. Perhaps a tale of "topsy turvy" or a tale as sweet as red velvet cake, whichever the case, we all have stories that we can tell. Let me say that again; we all have stories to tell. You're probably thinking that your life has been a plethora of terrible experiences. When life gives you lemons, make lemonade. This may sound like a tired old cliché but tell me why you shouldn't turn a negative experience into something positive. Whatever the case may be, your unique experiences might just be the next award-winning movie script, bestseller novel or a blog post that goes viral.
As anyone who has ever read or listened to an inspiring real-life tale will know, there's power in telling your real-life story. Candidly, there is money in it. This is one strategy that has helped people make money and amass wealth.
In an earlier published article, we examined how Michelle Obama 'sold' her story with her bestseller book; Becoming. Her book is described as an expression of deep personal experience which talks about her background, how she found her voice, her advocacies, life in the white house and her role as a wife, mother and first lady. Michelle wrapped her life story – defeats and victories, in swaddling silky sheets of words and sold it to us. This reemphasizes my claim that no matter how many negative experiences your life holds; it is never too much or too little to be monetized.
Here are three categories to consider!
Write it
Speak it
Productize it
WRITE IT!
Writing is not limited to books as most people assume. Writing is telling a story and there are several platforms through which this can happen like; movie scripts, self-help books, novels, autobiographies, memoirs, blogs etc. Let's examine a few.
Novels or Self-Help Book
Writing books is one of the most common ways through which people monetize their stories. You could decide to make a fiction out of your life's experience like Buchi Emecheta's Second Class Citizens. Emecheta used this fictitious work to describe her ordeal as a Nigerian woman during her early years as a girl child, her marriage and an African overseas.
Let's also consider the author of In The Red: The Diary of a Recovering Shopaholic, Alexis Hall as an example. After amassing £30,000 in debt, she used the crisis as inspiration for her lighthearted novel. According to Alexis, she had reached rock bottom and writing a diary helped her to realize how reckless she had been with her spending.
Alexis started writing her diary without any thought of turning it into a book but was convinced by her friends to contact a publisher after they read it.
Alexis wrote about a subject very close to her heart and managed to strike a chord with readers who were looking for witty, upbeat advice on dealing with debt. So your life's defeat or victories can be a lesson to guide others.
Other examples include Ben Carson's Gifted Hands, Donald Trump's Art of the Deal and Art of the Comeback, Robert Kiyosaki's Rich Dad, Poor Dad and many more.
Media space (Blog, Linkedin influencers, Facebook etc.)
Perhaps the idea of writing a book may seem overwhelming; dominating media spaces is another great opportunity. This can be done by setting up your own blog or using your Facebook page to further promote your brand which is a representation of who/what you are. These should be options to consider since they require shorter articles and writing for them will not be overwhelming.
All you need to start blogging is a hosted web domain name and something to say. Don't worry if you're a first-time blogger: setting one up is quick and easy. Also, the beauty of owning a blog is that there is no restriction as to what you can write about. So feel free to express yourself.
If you have been through problems and have come out the other side, your insight and hard-earned wisdom could be a life-saver to others.
There are numerous blogging platforms out there offering sign-up, templates and hosting for free like; WordPress.org, WordPress.com, Squarespace, Blogger and many others.
If you want other people to read your blog, let your friends know about it and ask them to tell anyone they think might enjoy or benefit from reading it too. Set up a Facebook page for your blog, where you can post updates regularly and then share them on your own personal timeline too. If you use Twitter and Instagram (which you should) start building an audience here too. You might be surprised at the community you manage to build through simply telling your story!
Once you've managed to get a bit of blogging momentum going, it's time to make some money. You can do so through advertisements; Google Adsense and affiliate programs.
Starting a blog first is a great idea and will also help you find your voice (and your audience.)
Write a Movie Script
Great movies are usually inspired by true life's experiences. Either as a true story, fiction or even SciFi, your life's story can be an inspiration to write a script. Some successful screenwriters have confessed that their scripts came as a result of an experience they or an acquaintance had. Although some scripts can be exaggerated and characters can be creatively introduced, it still doesn't take away the fact that the script was inspired by real-life events.
Emphatically, if writing a book seem less interesting to you, then write a drama. Create your own drama by weaving your life into a plot. Include those who have played a role in your life as your characters and give us a lesson to learn. Maybe you have just come out of a terrible relationship, that story might be the next Tyler Perry's Acrimony.
This idea might be a little tasking to those who have no idea about scriptwriting. A little researching will help you out on how to begin.
SPEAK IT!
A lot of people do not know that people get paid in millions just for speaking. I'm not just referring to motivational speakers but also vloggers, TV show presenters, podcasters etc.
Speaking about motivational speakers, I was shocked when I first found out how much some of them earn (as high as $10,000 per speaking engagement!). Your life is a story worth a million dollars! Your failures, successes, wars, battles, victories, laughter, tears can inspire and motivate. Motivation is a business that sells now with an increasing rate of depression and suicide worldwide. People look for stories of those who have fought wars and overcame them or even stories that make them feel like they are not alone in their problems.
Your pain is your purpose, your frustration is an opportunity to teach, your mess becomes your message to empower. There are a thousand and one people out there waiting to hear your story, waiting to be inspired by you and you can also tell them using podcasts.
Vlogs are not exempted. Make short videos of yourself speaking, sharing an experience. You can ask your friends for help to record and edit. Post these videos online (Youtube, Instagram) and from there you can build your network which becomes cashflow.
Don't forget TV shows. We've had some pretty popular and rich people who made it through speaking on TV shows. People like Steve Harvey and Oprah Winfrey are examples.
As well as Writing, Speaking is also telling a story.
PRODUCTIZE IT!
Robert Kiyosaki, Jim Kwik, Darren Hardy, Brian Tracy and most super successful entrepreneurs have this in common. They PRODUCTIZED their stories. That is, they re-invented their real life's experiences, into a company/product people loved, which made them lots of millions/billions.
Have you ever thought of creating a product or a company? Your story can inspire an innovative solution to problems that many other people face, and would most likely pay for.
Below is a most recent example of productizing your story;
Growing up, my grade 4 teacher loved to give us mental sums. She would call out some figures for us to multiply, add, subtract or maybe divide and give us about 30 seconds to figure it out. I always failed my mental sums. I hated it because I never did well in it but I excelled in spellings.

One day during mental sums period, my teacher asked us to multiply to figures. As usual, I was about to write rubbish till it suddenly occurred to me that I actually did know the answer. Since that day, I started passing my mental sums.

Now, what happened to me was that I realized that all I had to do was to do quick mental reasoning. Before then, I was mentally lazy and not willing to think because I had already accepted that I didn't know the answer and I could never excel in mental sums. I noticed this is one of the major reasons why most students are very slow to learning.

As a result of this experience, I have committed myself to help students realize that at times, a little reasoning is all that they need. I've proven this in my 5+ years of experience teaching kids who need special education.

Inspired by this experience, I'm currently building a platform that will provide special education to children of all ages who are slow to learning.

Damilola Oyedeji (Founder, Ariella)
So yes, your story can be a solution to the problems that others face.
Some others who have done this include; Robert Kiyosaki- the Rich Dad Company and Jim Kwik- Kwik Learning.
It is very common to find that many entrepreneurs create their products with inspiration from their personal stories (problems, challenges, background, setbacks, accidents etc.) which in turn has helped them, to acquire wealth.
In a nutshell, it is unfair to you and humanity if you waste your beautiful stories by keeping them untold yet, you wallow in poverty. Your story is yours; it is your a powerful tool to breaking wealthy grounds and I hope to see you at the top one day, sharing your personal experiences in whichever way you choose.